This shop has been compensated by Collective Bias, Inc. and its advertiser. All opinions are mine alone. #JohnsonsLovesBaby #ChooseGentle #CollectiveBias
Bedtime Routine:
One of my favorite time of the day is bath time because that means it is almost bedtime. I'm sure us moms can all agree on this, right? We started a bedtime routine around 6 months. I think it's important to have a routine that's consistent for your baby. Here's what our bedtime routine looks like.
We typically dance and sing- a- song (in Spanish) I made up about time to take a bath. This gets her super excited. We head upstairs around at 8 pm and I run the bath. We have been working on pushing her bedtime back to 9 pm. That's the goal! I grab everything I need and lay it out before her bath. This is super helpful to have everything you need whether you have a baby or a toddler. You know how impatient they can be.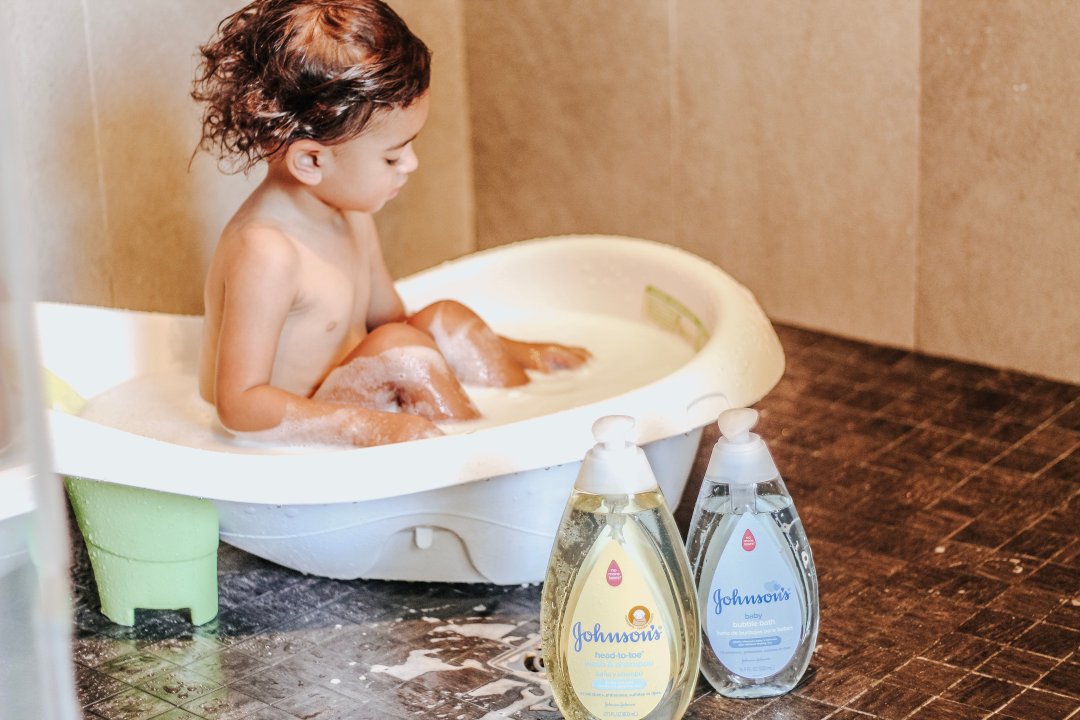 You can select this image to purchase.

I have her PJ's, brush, diapers, and JOHNSON'S® Skin Nourish Shea & cocoa butter Lotion. I change her our bed at the moment, so I lay everything down and we head into the bathroom.
I always make sure her towel is out and ready to go and I grab her JOHNSON'S® Baby Bubble Bath and JOHNSON'S® Head-to-Toe Baby Wash & Shampoo loves bubbles so we always start with bubbles and playtime in the bath. Then we use JJOHNSON'S® Head to Toe Body Wash. You guys, this smells so amazing, and best part is it's good for her skin. These products are sulfate, parabens, phthalates free and hypoallergenic. Worry free works for me!
She loves washing herself but hates when it gets in her eyes. That's why I love new & improved, inside and out JOHNSON'S® Head-to-Toe Baby Wash & Shampoo. It is an ultra-mild baby wash and shampoo and it is pediatrician-tested and pH-balanced to baby skin. She's always had sensitive skin so it's important that I use something mild for her.
It's Chloe's favorite part of the day! She doesn't hesitate to jump right into the bath. We also take lots of showers just depends on her mood. Chloe has been a fan since day one. As a baby I worried she'd cry during bath times. I always made sure to have the perfect lukewarm temperature and I used a towel to lay her on. As a first time mom, I always wanted to make sure I was using the best for my baby. I love JOHNSON'S® new and improved, inside and out products and I think you will too! They are more naturally derived, with 50% fewer ingredients. I'm also loving how easy they make it with the pump top.
Chloe could stay in the bath all night if I let her. So I have to do some convincing to get her out.
Once I convince her to come out I lay her on the bed. Ever since Chloe was a baby she's loved lotion and massage time! I love using JOHNSON'S® Nourish Lotion Shea & Cocoa Butter. This smells so good! I massage into her skin using small circular motions on her back, legs, and, arms. And she follows behind by applying a dab of lotion to each body part. If she could she'd dump the entire bottle onto her skin. I can't blame her, it's so darn good and smells divine!
That's why I love that JOHNSON'S® products are big. I also love their commitment to safety for our children. They really listened to all the feedback from parents and used it to reformulate their products -inside and out! They are setting a higher standard.
I'm sure as a mom, you can get behind that.
So, after we lather her up, we get her into her jammies, and brush her hair.
Now that she is warm and cozy in our bed, we read her a book. Sometimes we go through the same book 3 times. I'm working on slow weaning Chloe, but for now I still nurse to sleep. So next up, I nurse her at 9pm and pray for the best! Kidding. The last two nights she has been able to go down between 9:15 -9:30. She definitely is putting a fight to go to sleep. I just need to stay strong and consistent and we will get there.
I love the convenience when shopping at CVS. It is our shopping place of choice for all her baby needs. You can get all of your health and wellness for your entire family as well. That's why I choose to purchase these products at CVS. If you want to try the new JOHNSON'S® products, visit your local CVS. Right now you can buy 1, Get 1 50% on Johnson's Baby and Spend $20, Get $5 Extra Bucks at CVS.
Have you tried the New & Improved JOHNSON'S® products yet?
Please follow and like us: